Synthetic motor oils testing results
06-10-2018, 03:26 PM
Synthetic motor oils testing results
---
All synthetics are not the same. Which is best? I leave up to you.
Properties need to be considered to make an educated decision.
Good lab testing is essential and here is good lab testing for gasoline engines:
What is the best synthetic motor oil?
Synthetic motor oils are becoming more and more popular. By now, most people know that synthetic oil far outperforms conventional oil.
Just a few years ago, there were only a handful of synthetic motor oils available. But now, there are over a dozen that most DIY garage mechanics can choose from. Once you've decided that a synthetic oil is the better choice for your car, the obvious question is "Which one is the best?".
Every TV commercial for synthetic motor oil says theirs is the best.
Most of the time, however, they offer vague reasons why. Often they don't offer any real proof at all, relying on fluffy slogans such as "Nothing outperforms Mobil 1" or "It's liguid engineering".
To get a true gauge of which one is the best, you really need to look at
actual scientific tests performed on all of the oils.
And not just one test, but several tests that test the different important functions that a motor oil needs to provide. That's what we offer here on this page. Look at ALL the test results, and then judge for yourself.
The following ASTM industry standardized test were performed on ten different synthetic oils in February 2013. All of the motor oils were obtained in November and December of 2012.
The tests were conducted by a third party independent lab. The oils were coded to eliminate bias, meaning that the technicians did not know which oils were which.
Four-ball wear test (ASTM D 4172 Mod)
Total base number (ASTM D 2896)
Cold cranking viscosity (ASTM D 5293)
Thermo-oxidation engine oil simulation test (ASTM D 6335)
NOACK volatility test (ASTM D 5800)
Here are the 5W-30 synthetic motor oils that were tested:
Amsoil signature series oils
Castrol Edge with Titanium Fluid Strength Technology
Lucas Synthetic
Mobil 1 Extended Performance
Pennzoil Ultra
Petro-Canada Supreme Synthetic
Quaker State Ultimate Durability
Red Line High Performance Motor Oil
Royal Purple High Performance Motor Oil
Valvoline SynPower Full Synthetic Motor Oil
Four ball wear test
A motor oil's most important job is to prevent the wear of your engines metal parts that are constantly rubbing together.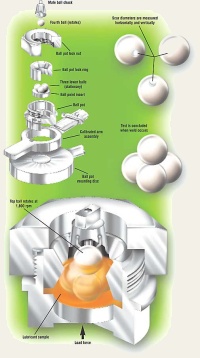 Three stationary ball bearings are submerged in the oil in a triangle pattern, with a fourth ball bearing sitting on top of them. The top ball is spun on top of the three lower ***** while a heavy load is applied. After a set period of time, the test is stopped and the wear scar on the three ***** is measured and averaged.
The smaller the wear scar, the better the wear protection.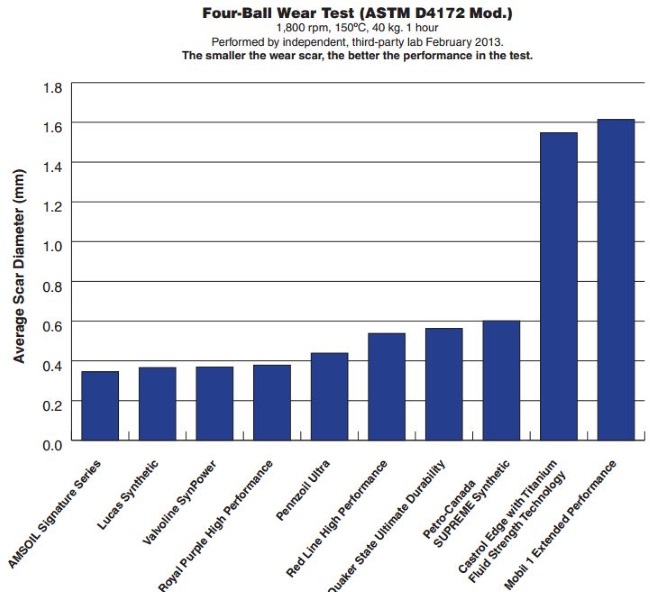 AMSOIL Signature Series
has always shined in this test, and these latest results are no exception. No other synthetic oil protects against wear better than AMSOIL. The top 4 oils all had wear scars under 0.40 mm. Notice that Mobil 1 showed the largest wear scar by far.
Total base number
Total Base Number (TBN) is the measure of a motor oil's reserve alkalinity, which controls acids formed during combustion. TBN can also be used as a measure of an oil's degradation in service. Motor oils that have a high TBN and demonstrate good TBN retention are known to effectively reduce the corrosive effects of acids over time.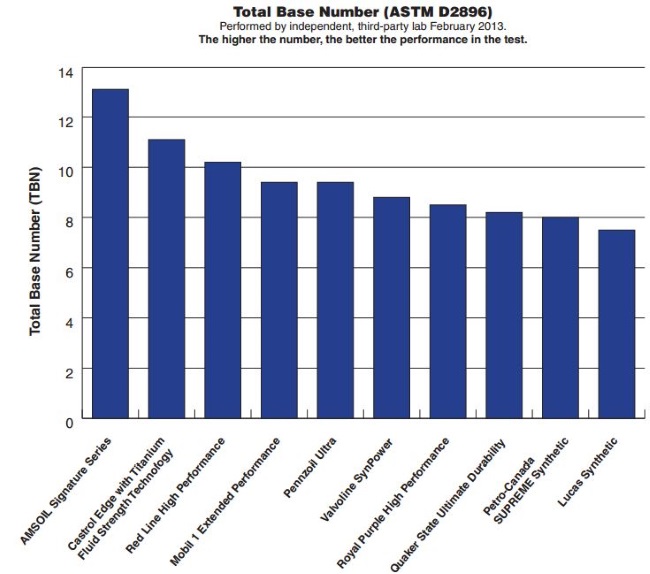 AMSOIL Signature Series has the highest TBN, two points higher than the next competitor. This is one reason why AMSOIL Signature Series excels in providing protection over extended oil drain periods.
Cold cranking viscosity
The Cold Crank Simulator Test determines the apparent viscosity of lubricants at low temperatures and high shear rates. Viscosity of lubricants under these conditions is directly related to low-temperature engine cranking. The test was performed at -30ºC (-22ºF). Results are reported in centipoise (cP), with lower values reflecting easier cold starts and reduced battery strain. To meet the API SN and ILSAC GF-5 motor oil specifications, a motor oil's cold crank viscosity must not exceed 6,600 cP.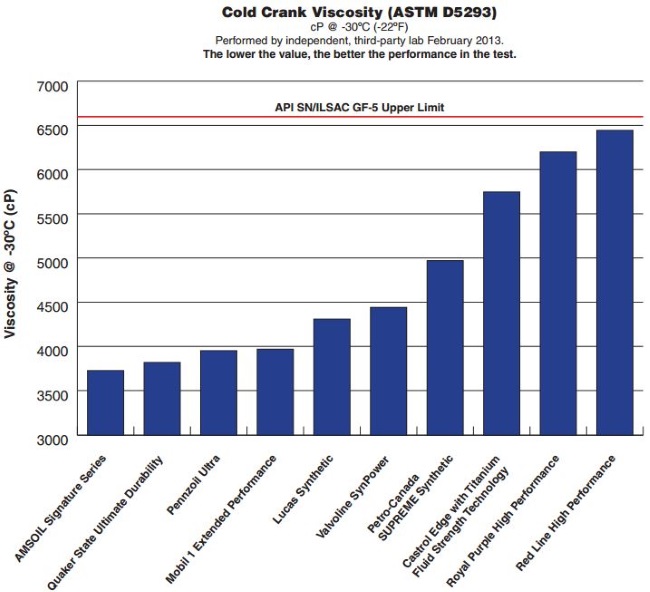 There was a large difference between viscosities measured. AMSOIL Signature Series exhibited the lowest cold cranking viscosity.
Thermo-Oxidation Engine Oil Simulation Test
Motor oils can form deposits when exposed to increased heat, reducing efficiency and contributing to poor overall performance. According to the ASTM, the TEOST test method "is designed to predict the high temperature deposit forming tendencies of an engine oil. This test method can be used to screen oil samples or as a quality assurance tool."
Given the number of vehicles now equipped with direct fuel injection, turbochargers and other performance-enhancing technologies that increase heat, deposit control has taken on increased importance. To meet the API SN Resource Conserving and ILSAC GF-5 motor oil specifications, a 5W-30 motor oil must limit total deposit formation to 30 mg or less.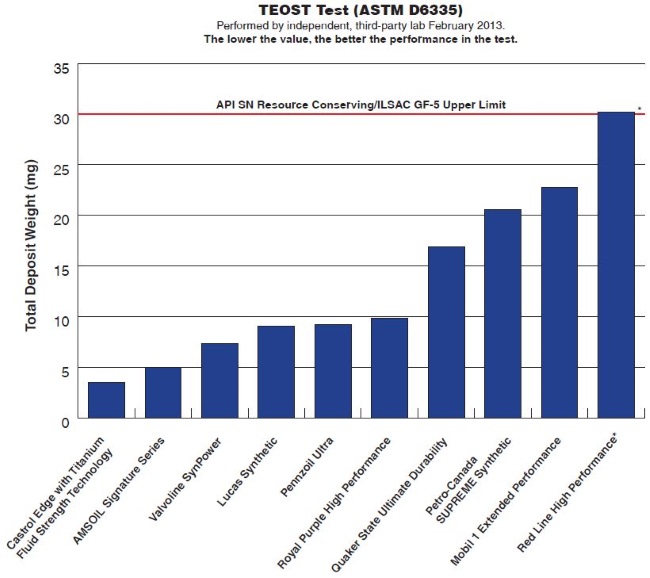 Results demonstrate a range of performance differences between oils. Only Castrol Edge with Titanium Fluid Strength Technology and AMSOIL Signature Series Synthetic Motor Oil limited total deposit weight to 5 mg or less.
NOACK Volatility Test
The NOACK Volatility Test determines the evaporation loss of lubricants in high-temperature service. According to the ASTM, "Evaporation may contribute to oil consumption in an engine and can lead to a change in the properties of an oil."1 As with the TEOST test, low values in the NOACK Volatility Test are of particular benefit in modern, hot-running engines.
In the NOACK test, a candidate oil is exposed to heat and circulating air. Following 60 minutes, the remaining oil volume is weighed and compared to the original weight, with the difference reported as the percentage of weight lost. Results must be limited to 15 percent or less to meet the API SN and ILSAC GF-5 specifications.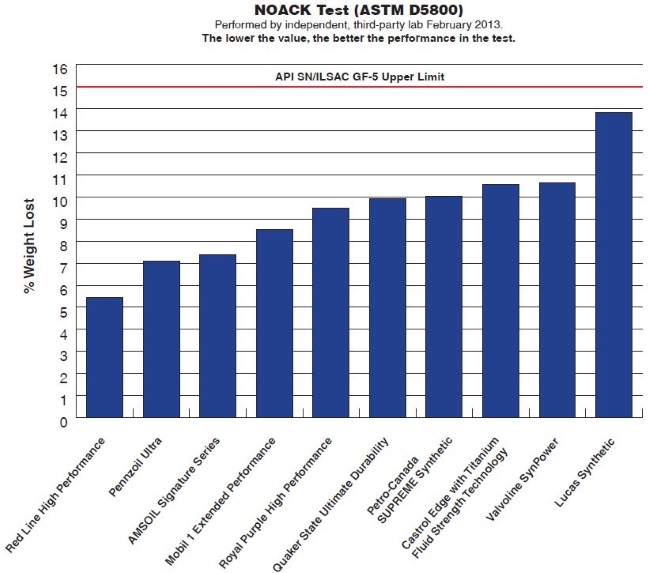 While all oils were below the API SN and ILSAC GF-5 upper limit, results indicate differences in hightemperature volatility. Half of the oils limited the percentage weight lost from volatility to under 10 percent, with AMSOIL Signature Series Synthetic Motor Oil having the third-best result.
All of these make the cut, so choose your brand with true knowledge of how they perform!
06-10-2018, 04:28 PM
Join Date: Jun 2014
Location: earth PNW
Posts: 4,142
06-10-2018, 05:08 PM
These are not small synthetic companies.
Redline, Castrol, Mobil 1, Royal Purple, Quaker State, Valvoline, Lucas, Penzoil, etc.
This testing is lab testing properties of oils. These are brand named oils that produce good results.
It
is
an Amsoil report on an independent laboratory tests. There is no shame here, this is actual testing with provable results. I do not use Amsoil, but it is a top rated synthetic oil, which has been around, as long as synthetic oils have been around!
I was party to BelRay synthetic oils testing, against all popular oils in testing in the late 60s. This is harsh testing, designed to bring out the qualities needed in a good gasoline engine oil test. Which is wear under many different circumstances.
All oils are not the same! Engine are tested with different oils and manufacturers pick ones that work the best in their engines along with perks from the oil industry.
Don't be fooled by thinking all oils are the same! Also do not look are one test, rate them all, as all are involved in gasoline engines
06-10-2018, 07:24 PM
Here...want some unbiased, unpaid for testing, occasionally updated (looks like 2018 was the last update). Both oils and additives.
WARNING - LONG read, don't stop half way thru, red it all..! Also note, it is a little tough reading, don't let that dis-way you. For the first actual oil info, you need to go down a little way, this paragraph is where the meat starts -
The "WEAR PROTECTION RANKING LIST" itself, begins here:
MUCH
information.
https://540ratblog.wordpress.com/201...-test-ranking/
Use at your own risk..!
Mike
---
Last edited by OCR; 06-10-2018 at

07:48 PM

.
The Following User Says Thank You to OCR For This Useful Post:
06-11-2018, 11:20 AM
Join Date: Jun 2014
Location: earth PNW
Posts: 4,142
Couldn't read that, too long and disjointed for me to get anything from it.
I like this better -
http://www.thedrive.com/the-hammer/1...d-a-decade-ago
You have to wonder why the oil majors don't have loads of test results showing why their brand is better than the other guys. Because it really isn't. Follow the money.
06-11-2018, 11:51 AM
Originally Posted by
Minnie.the.Moocher
Couldn't read that, too long and disjointed for me to get anything from it.
I like this better -
http://www.thedrive.com/the-hammer/1...d-a-decade-ago
You have to wonder why the oil majors don't have loads of test results showing why their brand is better than the other guys. Because it really isn't. Follow the money.
I speed read that provided by OCR. My impression is it is one of the most unbiased of any that I have read. I have periodically seek for unbiased lubricant articles like this in the last couple of decades to no avail. Most are like those you pointed out as paid "studies" to elevate the little brands to prominence they are today.
My impression of the self-proclaimed ME author is he has no ax to grind. When some of these industry professionals in the know retire and not so bounded by employment NDAs more truth will come out.
My skepticism shield is always up regardless.
07-03-2018, 10:11 AM
Join Date: Sep 2005
Location: Disneyland
Posts: 424
The funny part is most of the synthetic oils listed start with an organic base stock. In the US you only have to be a certain percentage of synthetic components to be called synthetic. This was done because Penzoil whined to the FTC they couldn't compete with Mobil 1 (which was/is 100% syn).
We went through this whole debate years ago when Amsoil dealers started posting crap like all over every forum there was.
You'll notice Motul isn't on these comparisons when you see them, there's a reason
If you want a real world test to see what oil is best for your use then try the ones you think are, send them off to Blackstone for analysis and see which one actually does what you need it to. Do
NOT
go by what you read on the internet.
09-06-2018, 09:24 AM
Join Date: Mar 2018
Location: Ohio & Florida
Posts: 110
I did read the entire report numerous times and then verified. End result being paying $10 to become a preferred AMSOIL customer and receiving 25% off all purchases for half a year. 3 gallons of signature 5/30 and several gallons of motorcycle oil are well worth the joining charge. Appreciate the guidance men.
09-06-2018, 05:06 PM
Never understood the "4-ball" test.
In the Aerospace industry, we "test like we fly". That is, testing all parts in the initial design stage, as close as possible to the actual usage before the manufacture of said parts. You should see the wing tests on actual aircraft..!

There is NO place in a modern (1955 and newer) engine that has a "4-ball" like situation happening. Not even solid or hydraulic lifters replicate the "4 ball" test. Kinda, somewhat, mostly useless test.

Mike
09-06-2018, 10:41 PM
Thread
Thread Starter
Forum
Replies
Last Post