FS: Brand new Racing Dynamics/Remus Exhaust 02-04 Cooper $325 NJ
01-14-2008, 09:39 PM
FS: Brand new Racing Dynamics/Remus Exhaust 02-04 Cooper $325 NJ
---
I purchased this exhaust brand new for my 2002 Cooper. I ended up selling the car before it could be installed because my dad wanted to get rid of his M3 (couldn't let that one get away). I have never even opened the box.

This is a cut and clamp type of exhaust, there have been many positive reviews both on here and Motoringfile. This is the same as a Remus exhaust, just branded Racing Dynamics on the tip (other things may be slightly different/better as well but it is built by Remus and they look identical in pictures). I would like $325 for it. It can be picked up in northern NJ. Thanks
01-15-2008, 05:02 AM
Join Date: Mar 2005
Posts: 1,365
Likes: 0
Received 0 Likes on 0 Posts
Would this exhaust fit an 05? I know a guy with a Remus and it sounds great, just enough growl!
01-15-2008, 06:50 PM
Cooper S or Cooper?
---
Could you email me some pics? or a web page with a pic I have a 2004 Cooper S will it work if all I ahve to do is move the hangers I can do that will you ship it?
01-15-2008, 11:38 PM
Wow a little ancy guys? I will see if I can get some pictures tomorrow. 1FSTMINI, you realize this is for a Cooper and not an S right?
01-16-2008, 11:40 AM
Here is what the exhaust looks like. I haven't unpacked it yet.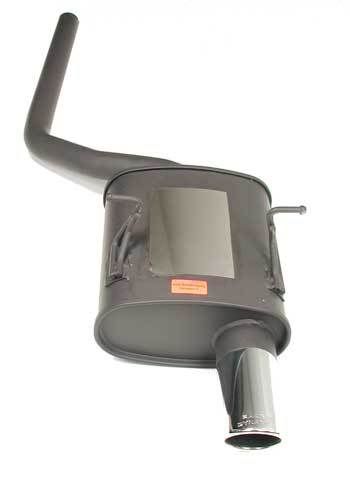 01-17-2008, 04:39 PM
BUMP

THIS IS FOR A COOPER, NON-SUPERCHARGED, R50, EXITS OUT ON THE RIGHT SIDE AND NOT THE MIDDLE.

Thanks for all your cooperation.
01-21-2008, 09:29 AM
Another bump, is anyone interested in this or am I asking too much or what?
Thread
Thread Starter
Forum
Replies
Last Post