R50/53 - R50/53 Ipod hook up on 05 coopers
12-01-2013, 12:10 PM
Join Date: Jan 2013
Posts: 103
Likes: 0
Received 0 Likes on 0 Posts
Ipod hook up on 05 coopers
---
Hello all, I have an 05 cooper s I was wondering the best way to go about putting an ipod aux port in my car. I have looked around a bit and found a few hook ups that were well over 100$. Not looking to spend a ton of money and I can do the install my self. Any ideas where to find a port for reasonable price?
12-01-2013, 12:40 PM
Easy and inexpensive...simple auxiliary input, located in the glovebox.
http://www.bavauto.com/shop.asp
Part number: 82 11 0 153 387
Oem an less than 40 dollars.
12-01-2013, 12:43 PM
Oem aux plug simply plugs into the back of the radio....
You unplug the harness for the sirrirus/CD changer prewire....then plug in the aux...the run the wire you plug into with the iPod anywhere you desire...some hide it in the glove box, some have put it in the down tubes, etc....you can spend much more money on the orm iPod kit or dice link to get some iPod controls through the radio....but lots more $$.
12-02-2013, 06:56 AM
Join Date: Jan 2013
Location: Wadsworth, Ohio
Posts: 28,145
One of most popular options is the MINI Aux Input cable. The kit comes with install instructions. We currently have these in stock and ready to ship.
Aux Input Cable Retrofit Kit Part # 82110153367

http://www.ecstuning.com/Search/SiteSearch/82110153367/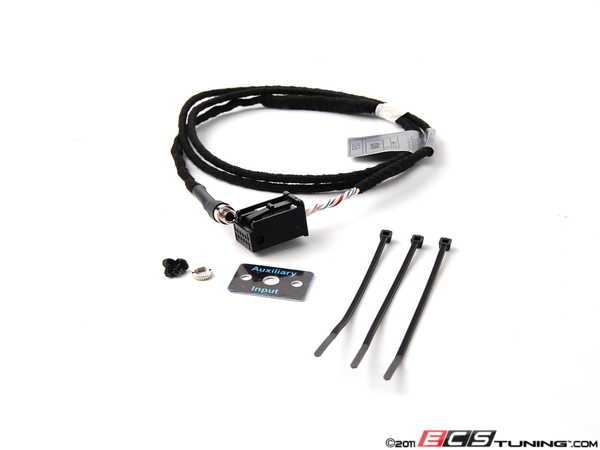 Here is one of the most popular install locations, but its can be installed in the glove box.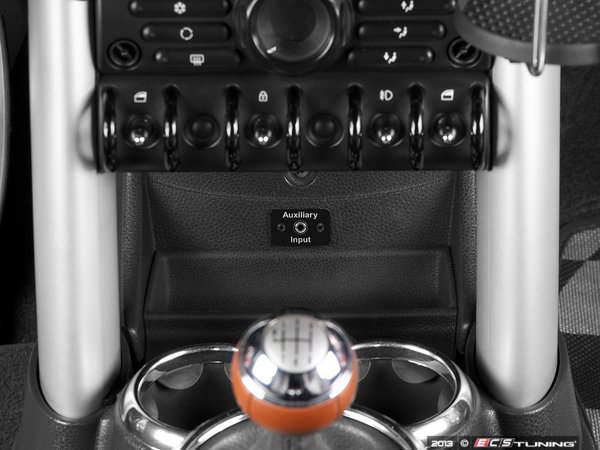 Other then that there is the OEM IPod unit and Dice Units.
Thanks
__________________
MINI Guru/ MINI Owner Since 2004
| Local Part Pickup Now Available
Milltek
|
Genuine MINI
|
Forge Motorsport
|
NM Engineering
|
ECS Performance
|
M7 Speed
Customer Service Hours: 8am-8pm EST|Sales Team Hours: 8am-11pm | SAT 10am-7pm
800.924.5172
12-02-2013, 07:25 AM
Join Date: Nov 2013
Location: Greenfield, Indiana
Posts: 21
Likes: 0
Received 0 Likes on 0 Posts
mhopper49, if you're handy, this is easy enough to DIY with a couple bucks worth of parts if you are only interested in the aux input (no ipod controls on the wheel/stereo).
https://www.northamericanmotoring.co...input-diy.html
I did it to my 04 a couple weeks back and it's working perfectly. The stereo even senses when something is detached and will automatically revert back to a previous input.
12-02-2013, 10:57 AM
mhopper49,
I have a Dice unit that worked like a champ in my 05. Plugs into the CD changer connection in the side part of the hatch, displays tracks on the headunit, works with the steering wheel controls.
I'll shoot you a PM.
https://www.northamericanmotoring.co...rack-more.html
Thread
Thread Starter
Forum
Replies
Last Post
R50/R53 :: Hatch Talk (2002-2006)