34% Off JCW Tuning Kits | Titanium ECS Wheel Bolts - New!
09-12-2018, 01:14 PM
Join Date: Jan 2013
Location: Wadsworth,OH
Posts: 26,970
34% Off JCW Tuning Kits | Titanium ECS Wheel Bolts - New!
---
ECS Tuning
JCW Tuning Kits Up to 34% Off
People who know performance know John Cooper Works. This upgrade engine / exhaust kit will take your MINI from the factory exhaust sound to distinct growl of the JCW Tuning kit with a press of the remote button. This includes a JCW preliminary pipe and rear exhaust with valved muffler ( stainless steal ) , wireless remote FOB, Tailgate silencer receiver unit, and wire harness / install hardware. Also includes JCW Tuning badge plaque for the engine cover, JCW Certificate, JCW Tuning hood sticker for the underside , and JCW Trunk Badge.
Fits:
F55-F57 MINI Cooper S/JCW 2014+
Click HERE to shop the JCW sale
----------------------------------------------------------------------------------
ECS Tuning
12x1.5 ECS Titanium Wheel Bolts - MINI R50-R53
If you are a performance-minded enthusiast looking to save weight wherever possible or just want a set of very high-quality wheel bolts that won't rust, ECS Titanium Wheel Bolts are exactly what you need.

ECS Titanium Wheel Bolts are 50% lighter than steel bolts of the same size, thus reducing rotational mass on the vehicle. They are CNC'd from annealed titanium alloy and when tested to class 10.9 fastener proof load requirements, they showed no signs of fatigue or failure.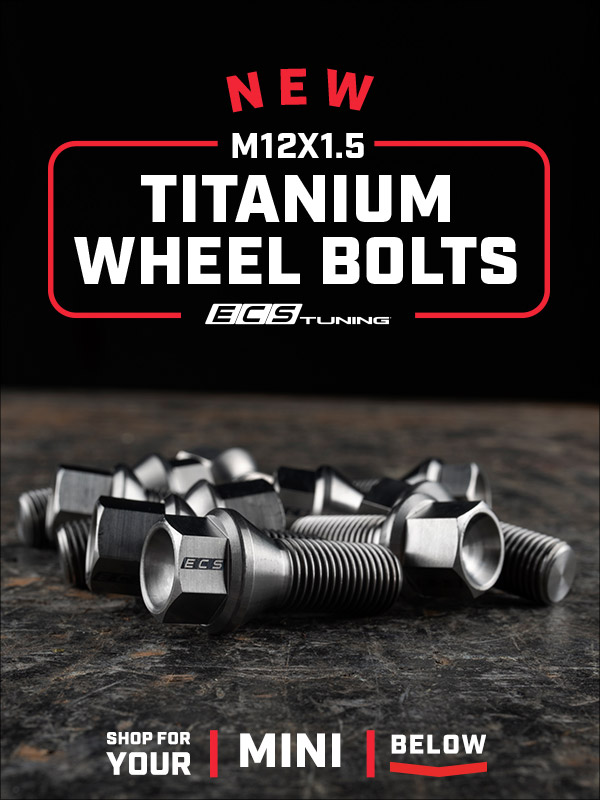 Fits:
R50-R53 MINI Coopers 2002-7/2006


Click HERE to shop the wheel bolts
----------------------------------------------------------------------------------
__________________
Have MINI questions? Need MINI answers? Live Chat us! 8:30am to 12:00am Midnight EST
[email protected]
|
[email protected]
|
INSTAGRAM
|
FACEBOOK
Customer Service Hours: 8:00 AM to 8:00 PM EST|Sales Team Hours: 8:00 AM to 11:00 PM | Saturday 10AM to 7PM EST 800.924.5172
Thread
Thread Starter
Forum
Replies
Last Post