2013 Hatchback (R56) Stuttering at ignition.
02-11-2019, 11:08 PM
Join Date: Feb 2019
Posts: 1
Thanks: 0
Thanked 0 Times in 0 Posts
2013 Hatchback (R56) Stuttering at ignition.
---
Hey all! New here and new Mini owner.

So I bought my Mini used in November 2018. 2013 with 65k miles. It has ran totally fine up until this morning.

Drove all the way to work, shut it off and gave the keys to the valet (I'm not fancy I swear). He went to start it up and move it, when i heard the sound of it stuttering and not fully firing up. So I hop back in give it try and same thing, start to fire up, stutters and then fails. Gave it about 30 seconds and it turned over fine and started up. But also the check engine light popped on. COOL!

Work ends and I head home. Thankfully fired up just fine. The whole drive listening and to her and doing my normal drive. No issues at all. Get home and shut her down, then notice that the radiator fan is CRANKING, now I know it does this kinda, but not this loud or long. So just to test I tried turning her back on and boom same problem, stutter but not fully starting.

My first thought was (because of the radiator fan) that maybe she was overheating. Let her cool down and then checked the fluid and was definitely low, which makes sense since i had noticed some leaks on the driveway, but not any crazy amount. So then I go to Autozone and get some more fluid and top her off. Go for a little drive to get it all circulating, but still have the same problem.

Now it may just take a little time and I'm gonna check the levels in the morning. But also checking all avenues before investing more money. Next stop will be an OBD2 reader, if necessary.

Hoping you guys can help. Thanks ahead of time.
02-12-2019, 07:30 AM
Join Date: Jan 2015
Location: Philadelphia PA
Posts: 2,971
OBD reading is first after topping the coolant. It might be a simple misfire for bad/going bad coil or spark plug. get the codes checked out first them you'll know what you're dealing with
02-12-2019, 08:16 AM
Join Date: Jan 2015
Location: Philadelphia PA
Posts: 2,971
02-12-2019, 08:27 AM
I am happy with schwaben tool from ECS, a site supplier.
The Following User Says Thank You to Minidogger For This Useful Post:
02-12-2019, 09:24 AM
Join Date: Jan 2013
Location: Wadsworth,OH
Posts: 27,042
Schwaben MINI Cooper Scan tool :
"Click HERE to shop MINI Cooper Scan Tool"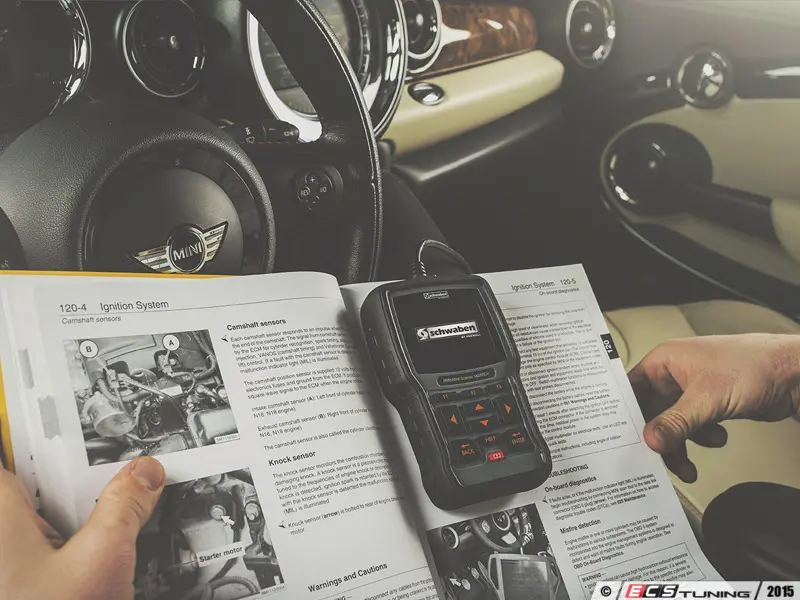 Hey thats my R58 JCW in the pic.
__________________
Have MINI questions? Need MINI answers? Live Chat us! 8:30am to 12:00am Midnight EST
[email protected]
|
[email protected]
|
INSTAGRAM
|
FACEBOOK
Customer Service Hours: 8:00 AM to 8:00 PM EST|Sales Team Hours: 8:00 AM to 11:00 PM | Saturday 10AM to 7PM EST 800.924.5172
02-13-2019, 05:01 PM
Join Date: Mar 2018
Location: Western Mass
Posts: 118
Thanks: 0
Why would you need the car running to check the codes. If its a manual just press the start button with out pushing the clutch in and it should allow you to pull the codes. Your symptoms sound like a failing High Pressure Fuel Pump.
Thread
Thread Starter
Forum
Replies
Last Post